Friday, 7 February 2020 / 10 a.m. - noon
Lecture
Shared Knowledge: Project Presentation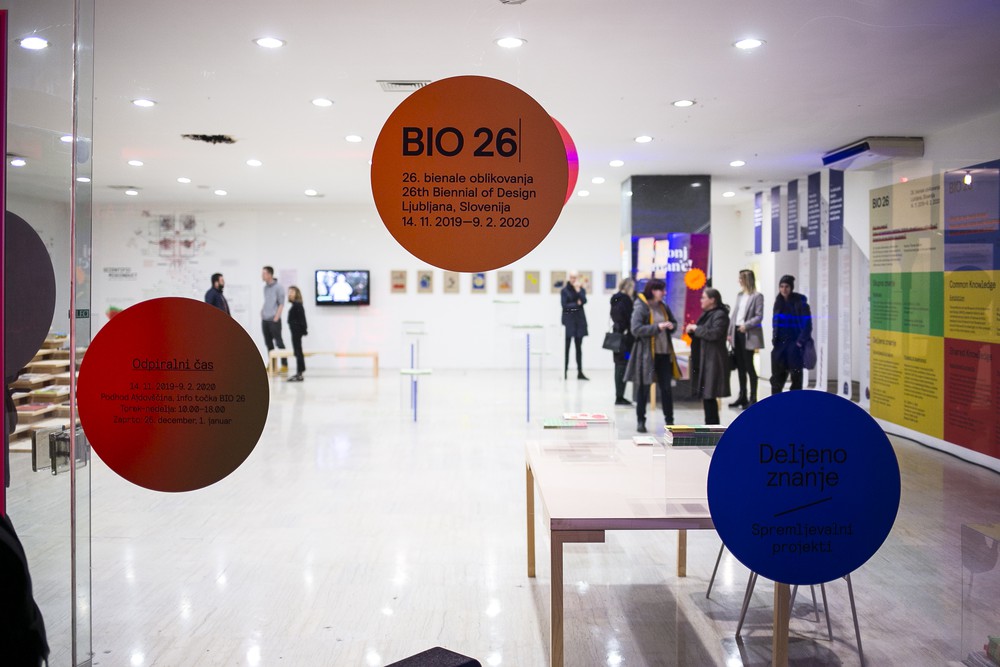 Shared Knowledge is the title of the accompanying program of BIO 26| Common Knowledge, that combines the projects, that were chosen on the open call. At the event on Friday, February 7th, we will host presentations of the projects that are exhibited at Ajdovščina Underpass as well as some others, that the curator Thomas Geisler with his assistant Aline Lara Rezende chose in the second round.
The projects' presentations will provide focus on different questions and issues regarding the themes of this year's biennial, common knowledge and information crisis.
You are kindly welcome to join us in sharing knowledge.
Presented projects:
1. Fernanda Curi: Shared Knowledge
Shared Knowledge in urban research as a means of raising awareness on the fragilities and potentialities of the place we live in and create new uses and possibilities for spaces to be both public and common.
More about the project here.
2. Lionel Esche (Kollektiv A): Housing the Common
Kollektiv A with their project Housing the Common questions what housing means for us. Everyone has the right to live in a place, as long as she/he is part of our world. In times of the financial crisis, the digital revolution, our society is drifting more and more towards a profit looking alternative in the housing market. In every major European city, the houses are getting scarce, meanwhile the rent is climbing up and up. It raises the simple question who can afford the city and for who is the city?
Kollektiv A is a German architectural office founded in 2014. Since then the office work has developed through research and physical built projects, in the field of architecture, exhibition, publication and design. Kollektiv A has lectured and taught at different universities and institutions, and had their work exhibited at the architecture biennial in Venice and Chicago and in single exhibitions around Europe.
3. Pika Žvan, Naadira Patel, Adrian Friend, Gregor Pogačnik: Ogrodje: Frameworks
Project Frameworks revolves around creating designated spaces for play and exploration, offering possibilities to work and play together within educational environments. These frameworks, spaces, layouts, furniture examples and tools allow inhabitants of the space to increase agency and active engagement. They are small steps toward changing our current learning environments. Project Frameworks is an open platform and is free to use and contribute. The group believes that by taking action, making and designing for diversity they are building a better common future.
More about the project here.
4. Milica Ćebić: Noesis
Noesis is artistic speculation in form of text with the scheme. It is about capabilities of an individual to think about data, information and knowledge in contemporarity marked by globalization, capitalism within the modulated economies, sociabilities, (modern) individualities, technologies, theories, diferent artistic practices. All are touched through concepts of technical exteriorization and transindividuation. Research brings reconsideration of neural structure(s) where the limitations showed themselfs as well as a belief in overcoming them.
5. Mashoni, Oštro: Razkrinkavanje.si
In the modern-day flood of misinformation, the website razkrinkavanje.si seeks to find a reality which is as objective as possible. Having access to quality, reliable information is essential for citizens to lead well-informed lives. The authors are the design studio Mashoni and Oštro, Centre for Investigative journalism of Adriatic region, whose research outlines their methods for finding false, distorted or otherwise manipulated information.
6. Tomaso Marcolla: Poster: Journey of images through present
With the coming of the digital and technological innovation, the amount of available information grew exponentially, even excessively, to the point of generating confusion, disorientation, and distrust. The communication through images, using the emotional language, permits instead to reach the maximum effect in the shortest time possible. The title of Marcolla's collection is Poster and it is a selection of the winning works in various international competitions.
More about the author and his work here.
7. SURS: Statistically speaking - Exhibition at the 75th anniversary of the Statistical Office
It is proven that the celebration of birthdays is healthy. Statistics show that those people who celebrate the most birthdays become the oldest. Celebrating its 75th anniversary, SURS presents infographics showing interesting facts about Slovenia and its residents. They received the Brumen award for the excellent Slovenian design.
8. Ljudje in cooperation with Modra insurance company and Retirement Home Nove Fužine: Nice project
Studio Ljudje asked a group of seniors what makes life beautiful and invited them to answer in the form of a poster. A graphics workshop was held inside the International Centre of Graphic Arts in Ljubljana where seniors learned the basics of screen printing under the mentorship of renowned artist and educator Petra Varl. Each poster represents a unique impression of a beautiful life as perceived by the author. The artworks were also be exhibited in the streets and squares throughout Slovenia and in the form of a web gallery that helped foster more creative experiences for seniors on a broader scale. By voting for their favorite artworks, visitors contribued a donation towards developing activities that aided seniors to play a more active and meaningful role in the community.
9. Alex Gehlen: Sevenclicks
Wikipedia is arguably the biggest accumulation of communal knowledge, and one of the most frequented websites worldwide. With its unique structure of related topics and hyperlinks it is also a perfect start location to go a click-journey and explore knowledge on the web. The creative research tool Sevenclicks.org is connected to the Wikipedia-database and aims to highlight the links between Wikipedia-articles. It sends its users on a path to explore the connections from one subject to the next, and encourages to leave the 'obvious' path and find unexpected connections and topics.
Presentation supported by Design Management Network Netherlands.
10. Speculative Edu: Re-constrained Futures
As part of the SpeculativeEdu project funded by the European Union Erasmus+ program, the Reconstrained Future Exhibition presents a selection of student projects produced via a speculative design approach, dealing with (our) futures, from the microlocal futures to the global visions of tomorrow. The Reconstrained Future Exhibition projects offer guidelines for concrete mechanisms, tools, and techniques for action, and some possible scenarios for the future such as climate, ecological, and social issues.
More about the projects here.
11. Franca Formenti, Evelyn Leveghi: Pr(o)vacy
Franca Formenti and Evelyn Leveghi are the creators of "Pr(o)vacy": a food artivism project that explores the topics of migration and access to food. At BIO 26 they will tell the connection among the experimental performance (firstly staged in Varese, Italy, last year) with the topic of Common Knowledge, through the issues of food choice and embodiment. They will share their experience matching activism, relational strategic design, economy and food in order to arise awareness.
More about the project here.
12. Akiko Takahashi: Bean Necklace
Although beans are not only tasty and beautiful but also friendly to the environment, they reflect world cultures and are good for our health, however, they are often regarded as less sexy food compared to meat. Akiko Takahashi would like to promote beans in a playful way by designing necklaces with beans. Her intention is to bring attention to the beans and convince people to bring more beans to their table.
More about her projects here.
13. Sanctuary for Abandoned Plants: Green Refuge
Green Refuge is a project, which has emerged as a part of the associated program of Design Biennale BIO 26/ Common Knowledge. The project has the same name as Abandoned Plants Sanctuary's greenhouse Green Refuge with a reason. Abandoned Plants Sanctuary has moved all of its green protégées to abandoned space at Ajdovščina underpass for the time of the biennale, where it has recreated a visual cut-out of the rainforest which is in most cases common homeland of decorative pot-plants. The processual experiment has taken advantage of the given space while together with external collaborators and participants at the same time introduced other natural elements into it.
Venue:
Ajdovščina Underpass, Ljubljana