Wednesday, 5 February 2020 / 10 a.m. - 3 p.m.
Lecture
Protection of intellectual rights
MAO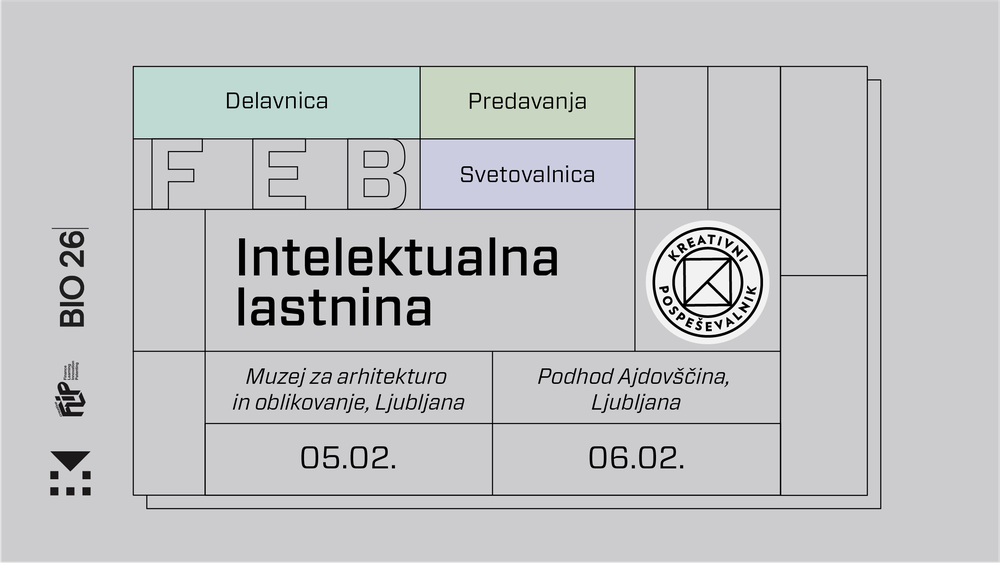 As part of our programme at Centre for Creativity called Creative Accelerator and Associated Programme of 26th Biennial of Design, run by the Museum of Architecture and Design in Ljubljana, we are organising a workshop, series of lectures and individual support desk on the topic of intellectual property (IP) rights for the creative and cultural sector in Slovenia. Aimed at creatives, who are wondering how they can protect their creative works, how does the process work when it comes to shared authorship, how to protect IP rights in a licence agreement, what kind of IP protection routes exist for creative practices, how to make most of the IP rights and how the Slovenian government helps with that process.
IP Thinkshop is a workshop run by the EU co-funded project Creative FLIP, followed by a series of lectures, and at the same time there will be an open desk (IP Clinic) for individual consultation on IP rights, which will also run on the next day in the Ajdovščina Underpass.
Registration for the IP Thinkshop is necessary, as the places are limited, but no registration is required for lectures and IP Clinic as they are based on a first-come, first-served basis. Please note that the IP Thinkshop, IP Clinic and the lecture by Anna Maria Stein will be held in English.
Program:
(5 February 2020, MAO)
10.00 – Coffee and registration
10.15 – 12.15: IP Thinkshop: Workshop for creatives on IP (Cyrille Dubois and Onur Emul, Creative FLIP Project)
12.15 – 13.00: Lunch
13.00 – 13.45: IP in creative practices (Anna Maria Stein, lawyer for WORTH Partnership Project)
13.45 – 14.15: IP license agreement (Saša Krajnc, lawyer, specialises in IP rights)
13.00 – 15.00: IP Clinic (individual support desk is run alongside the lectures)
(6 February 2020, Ajdovščina Underpass)
13.00 – 15.00 IP Clinic
🔆 Cyrille Dubois, Onur Emul and Dubravka Jurisic
(Creative FLIP project on Finance, Learning, Innovation and Patenting for CCIs, www.creativeFLIP.eu)

☞ IP Thinkshop is a workshop for CCIs not only to provide a brief training on IP but also to understand their perceptions about IP and to make them consider the relevancy of IP in their businesses. Limited number of participants of up to 20.

☞ IP Clinic is an individual support desk for participants where they can ask their specific IP-related questions. Depending on the question, we can either provide them on-site support (i.e. answer their questions, provide useful tools, etc.) or forward them to the relevant bodies.

🔆 Anna Maria Stein (regulating IP right for the WORTH Partnership Project – Avvocati Associate Franzosi Dal Negro Setti, Milano, Italy)

☞ IP rights in Creative Industries (how to establish IP rights before you start a collaboration with another company and how to avoid exploitation and generate revenue by allowing you to enter into licensing agreement for your IP rights with third parties)