Thursday, 6 February 2020 / 1 p.m. - 3 p.m.
Workshop
Protection of intellectual rights
Podhod Ajdovščina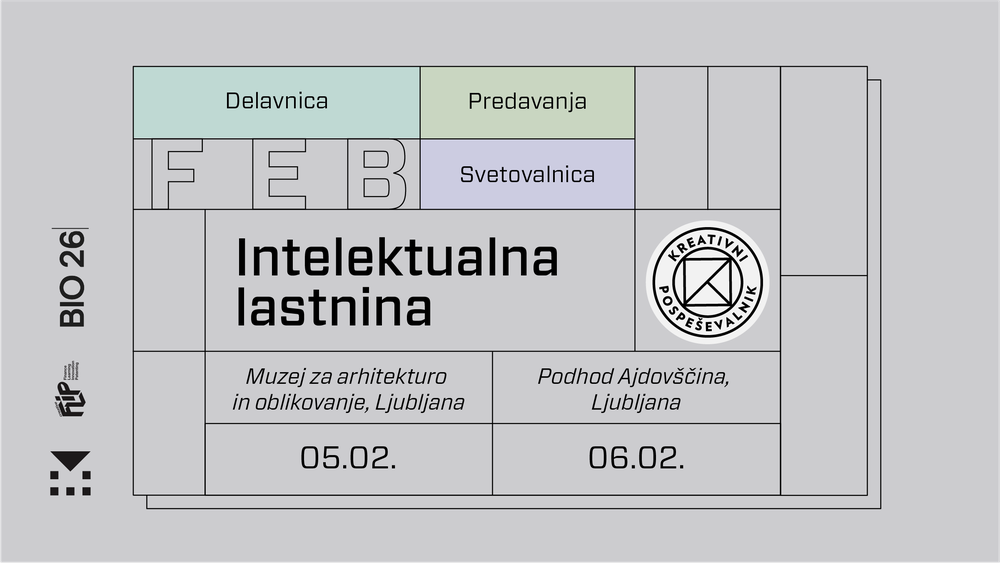 As part of our programme at Centre for Creativity called Creative Accelerator and Associated Programme of 26th Biennial of Design, run by the Museum of Architecture and Design in Ljubljana, we are organising a workshop, series of lectures and individual support desk on the topic of intellectual property (IP) rights for the creative and cultural sector in Slovenia. Aimed at creatives, who are wondering how they can protect their creative works, how does the process work when it comes to shared authorship, how to protect IP rights in a licence agreement, what kind of IP protection routes exist for creative practices, how to make most of the IP rights and how the Slovenian government helps with that process.
IP Thinkshop je delavnica v okviru projekta Creative FLIP, ki ga sofinancira EU, čemur bo sledil sklop predavanj, hkrati pa bo na voljo točka za individualno svetovanje (IP Clinic) na temo PIL, ki bo na voljo tudi naslednji dan v Podhodu Ajdovščina.
Zaradi omejenega števila mest je potrebna registracija za delavnico IP Thinkshop, ne pa tudi za predavanja in svetovanje IP Clinic. Delavnica IP Thinkshop, svetovanje IP Clinic in predavanje Anne Marie Stein bodo potekali v angleškem jeziku.
6. februar 2020, Podhod Ajdovščina
13.00 – 15.00 IP Clinic (individualna svetovanja)
🔆 Cyrille Dubois, Onur Emul in Dubravka Jurišić
(Projekt Creative FLIP – Finance, učenje, inovacije in patentiranje za kulturne in kreativne industrije, www.creativeFLIP.eu)

☞ IP Thinkshop je delavnica za kulturne in kreativne industrije, katere namen ni zgolj ponuditi kratko usposabljanje na temo intelektualne lastnine, ampak hoče tudi razumeti njihovo dojemanje intelektualne lastnine in jim prikazati pomen intelektualne lastnine za njihovo poslovanje. Število sodelujočih je omejeno na 20.

☞ IP Clinic je točka za individualno svetovanje, kjer sodelujoči lahko postavijo specifična vprašanja na temo intelektualne lastnine. Glede na vprašanje vam lahko ponudimo takojšnjo podporo (tj. odgovorimo na njihovo vprašanje, svetujemo glede uporabnih orodij, itd.) ali pa vas napotimo na ustrezne institucije.

🔆 Anna Maria Stein (ureja pravice intelektualne lastnine za WORTH Partnership Project – Avvocati Associate Franzosi Dal Negro Setti, Milano, Italija)

☞ Intelektualna lastnina v kreativnih industrijah (kako določiti pravice intelektualne lastnine pred začetkom sodelovanja z drugim podjetjem ter kako se izogniti izkoriščanju in ustvariti dobiček tako, da za vaše PIL lahko sklepate licenčne dogovore tudi s tretjimi osebami)